Reply
Topic Options
Mark Topic as New

Mark Topic as Read

Float this Topic for Current User

Bookmark

Subscribe
Mark as New

Bookmark

Subscribe

Email to a Friend
My dataset is structured in a way where I have 3 location columns and their respective values:
Global | Region | Country | Value | Trend
All Sites | Emerging Markets| Japan | 700 | 0
All Sites | Europe Sites | China | 1500 | 1
All Sites | Japan | Germany | 800 | 0
...
So, I built a Matrix that displays this values for each country, but I also want to show the average for each region and for global. Therefore, in my matrix rows I used all 3 columns Global / Region / Country, and for columns I used Value and Trend. I use row subtotals to get the values for Region and Global. The formula to calculate the values for each row is simply: AVERAGE([Value]). In this case, the subtotal will be already an average of the values below it.
For the Region subtotal, the result is fine, as you can see in the image below. However, for the Global one, the result should be a simple average of the Regions, and not an average of all Countries. It sounds wrong, but this is what the stakeholders want.
As you see, if you sum up the value of the 3 regions (93 + 88.2 + 92.5) and calculate the average, it should be 91,2 instead of 90,4. I can't find a way to get this result. Does anyone have an idea?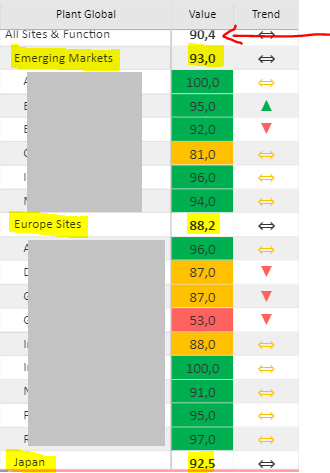 Thank you so much!
1 ACCEPTED SOLUTION
Mark as New

Bookmark

Subscribe

Email to a Friend
Hi @Ale
You may try to use below measure. Show the simplified sample as below:
Measure =
SUMX (
    SUMMARIZE ( Table1, Table1[Region], "a", AVERAGE ( Table1[Value] ) ),
    [a]
)
    / DISTINCTCOUNT ( Table1[Region] )

Regards,
Cherie
Community Support Team _ Cherie Chen
If this post helps, then please consider Accept it as the solution to help the other members find it more quickly.